UCDS KOZZA
UPDATE! UCDS KOZZA removed from production and sales cancelled!
Dear friends.
We are proud to present you our new development.
Now it concerns the safety of cars. This time not only Ford cars but also a huge number of brands.
As you know, a HUGE hole in the safety of almost ALL modern cars is the presence of so-called "creepers" that
in a matter of seconds register an additional key in the car – and the car easily leaves the owner.
The entire hijacking process consists of 2-3 items.
1. Hacking of the larva of the door.
2. Hacking of the latch of the ignition lock
3. Prescribing the key.
In cars with the Start-Stop button, item 2 can be excluded altogether.
As is known at the moment, a large number of "secrets" of "blockers" and other devices preventing car theft are presented on the market.
We decided to do our bit and created something fundamentally new, inexpensive, and most importantly very effective.
We have created a blocker diagnostic protocol CAN-BUS car tires.
What does it mean? This means that while our device is in the "cocked" or "guarded" mode in your car – NOBODY and NOTHING can not only prescribe, erase, re-initialize the keys, but I will not be able to access ANY actions with the car at the DIAGNOSTICS level.
Thus, no one without your permission can even read the errors on your car (on the bus that is locked)
The device consists of two parts.
The first part (the smallest) is the protection device itself. It is integrated into the regular wiring ("scythe"). The device is easy to install. You can determine the place (most not standard) where to install and hide the device.
The second part of the "key" in the blue case is a device that turns the protection device on and off.
This pair is attached to each other, so the "key" works ONLY with the "own" security device.
How it works?
You install the protection device in the car. Attach a "key" to it. Activate the protection.
From now on, in your car on the data bus, which is under protection, there is NO MORE DIAGNOSTIC PROTOCOL.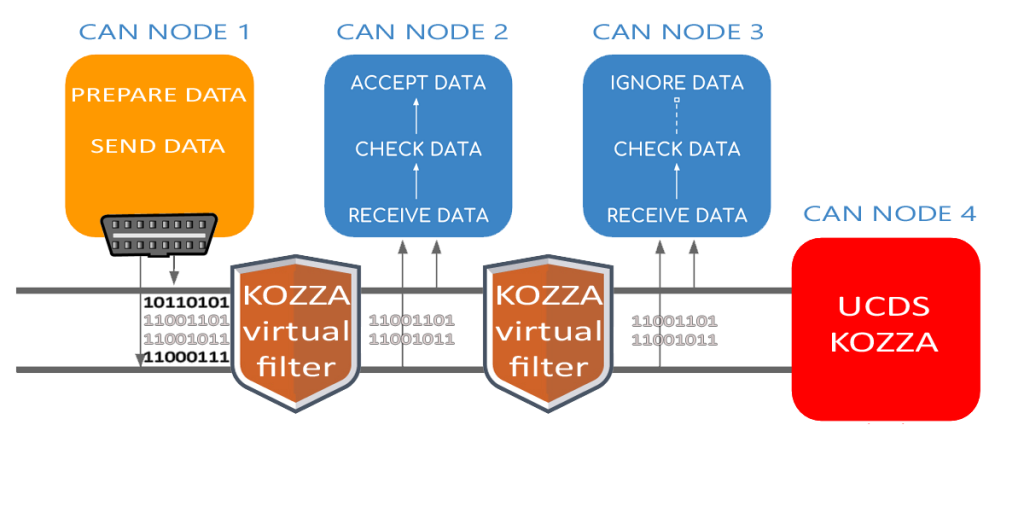 This device does not affect the normal operation of the car. It is not the cause of error generation by module.
Operates in absolute stealth mode. The "key" control commands can not be scanned on the data bus.
Installation instructions, as well as technical specifications => Instructions
The kit includes a protection module and a "key"
With respect to all, the team UCDS Team.